Functionalities
100% customizable shift creation and management
---
Time Clock
Each employee has access to a reserved area that allows him/her to start and stop the shift. Through this feature, the employee can know the hours actually worked.
For shifts that have meal breaks, the time clock allows for intermediate breaks.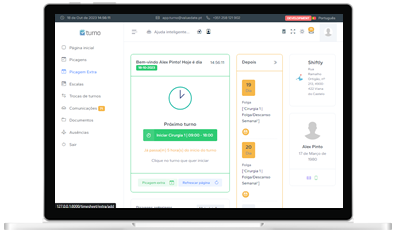 ---
Wall app
For a quick, easy and secure time clock, Turno has an application that enables coworkers a way of registering time in seconds.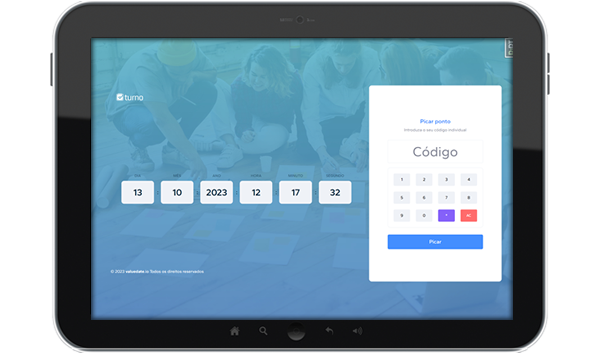 ---
Biometric record
Turno allows integration with solutions the register biometric presences like finger print, facial recognition or RFID.
---
Hour bank
Track the hours that an employee picks up too much or too little to allow you to accumulate hours that can be deducted in future absences.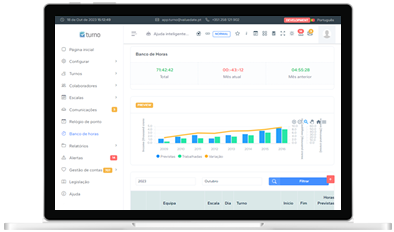 ---
Geo localization
The punching records, after the authorization of the employee, the geographical location where the punching was performed. This allows you to have a graphical view of the position of the various employees on a geographical map.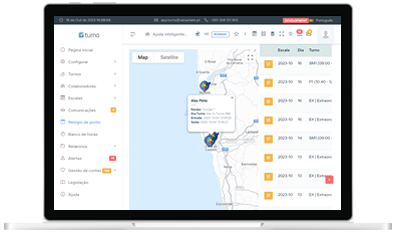 ---
Fraud detection
Through the collected data, Turno.pt can identify whether or not a pick is potentially fraudulent. Based on this information, visually identified in the monitoring maps, the manager can take the appropriate actions to mitigate these activities.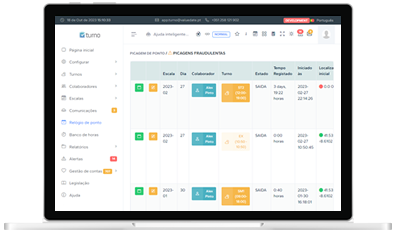 ---
Follow-up
Validate planned vs. performed shifts, including planned and performed hours, shift exchanges, absences, absences, and lateness. There are several daily and monthly follow-up reports.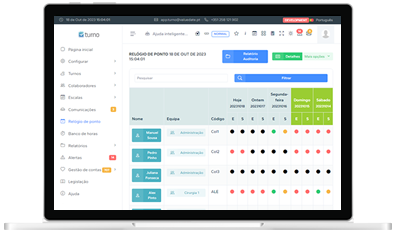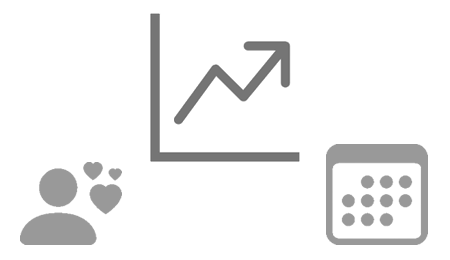 Stop wasting time and increase productivity
The turno.pt is a web application with an appealing and functional interface, which can be used on any device, allowing the user to view and export the service schedules.
Get started now
Get started for free and try it for yourself
---
The turno.pt is always available. Choose the plan that best fits your company, department or team
More than 50 employees? Talk to us for a value proposal that suits your needs
Prices do not include VAT
Help
Frequently Asked Questions
---
If you have additional questions, click here to send us a message!
Can I test and not be charged?
That's right! When you create your account, the free plan is automatically selected.
How do I cancel a paid plan?
You can cancel at any time directly in the app. Once you do so, you will have access to the app options until the end date of the period already charged.
Does the allocation of shifts and schedules comply with the Labour Code?
All the parameterization of shifts and employees allows it to adapt the generation of shifts to the Portuguese law.