Talk with us! Click to book a free session with us
turno
100% customizable shift creation and management
---
The application automatically allocates employees to shifts, validating failures in the roster (minimum/maximum number of people per shift, among others). Allows manual modification of the generated schedules to adapt to exceptional situations (sick leave, absences and other reasons).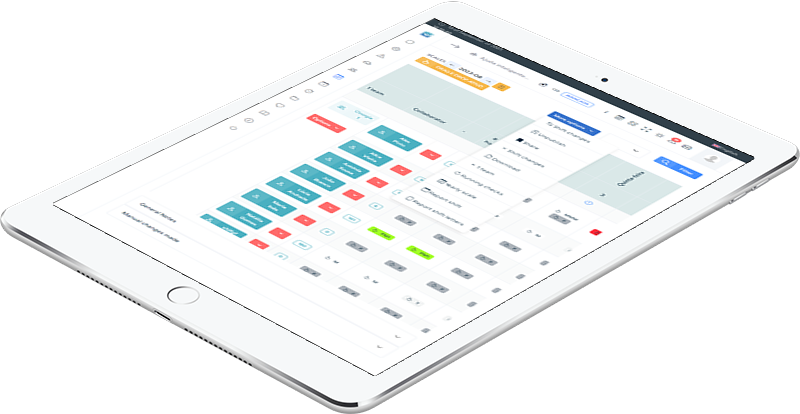 Multi device
The shift is available on PC, Tablet, mobile phone or any device with an internet connection
Automatic scales
Parameterize alignments and absences and let the shift plan the schedule for you
Manual editing
Edit the scale and adapt shifts, drag and drop (drag & drop) for faster
Reports and validations
View and export scales and validations in Ms Excel and PDF
Substitutions
Shift change flow with superior approvals and validation
Messaging and communications
Exchange messages directly in the application
Artificial Intelligence
Shift has several AI models to assist users, from shift creation to fraud detection.
Shift pattern detection
Fraud detection on timeclocks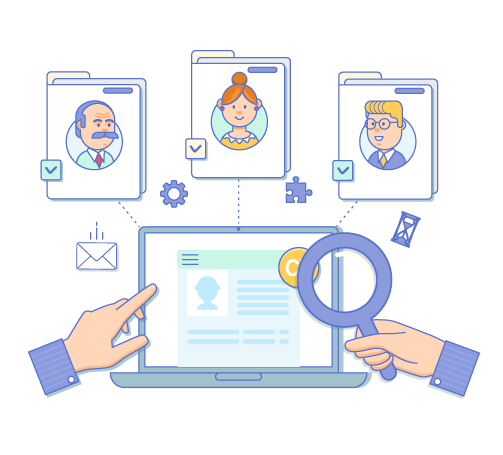 turno
Coworker management
---
Define the profile of each employee and manage their personal data in an integrated way.
Coworker
turno allows you to store all personal data, from category, employee code, citizen card, contract date, emergency contacts, among many other important information, all in the same application.
Absences
turno allows you to manage vacations (requests, approval and rejection), manage employment contracts and documents, manage performance, among many other features!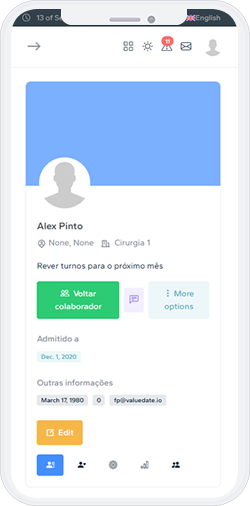 Documents
Share and manage your shift. No need to send documents by email, centralized on the same platform, such as closed schedule maps, contracts, salary receipts
Evaluations
turno allows you to create global, team and individual objectives, carry out generic and 1:1 assessments and visualize the evolution of your employees, all in the same application.
Time Clock
Activate the time clock module so that your employees can check in and out of shifts independently.
---
Time control
The legislation in force in most countries requires the recording of working time by any employer.
-
History and Fraud
Collection of data on the geographic location of employees, as well as actual entry/exit times, to compare the total number of hours planned versus those actually carried out.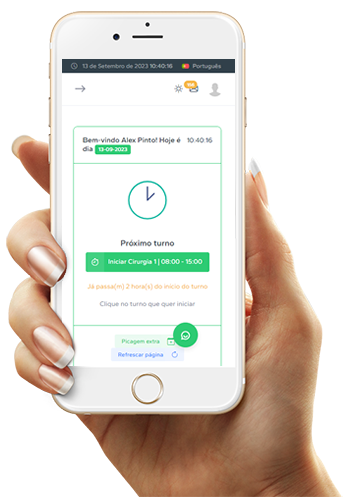 Reports
The application has a vast set of reports to analyze and monitor the evolution of shifts, including absences, hours, shifts and finances. Export in Ms Excel and PDF format
Scales: Per shift, Per shift (letters), Annual map, Per day, Open hours
Employees: Monthly Scale , Absence chart , Holiday Aggregate, Absences and Holidays
Hourly Control: By employee , Team Participation, By Teams , By Coworker, Monthly Details , Hours Expected
Clock punch: Attendance, Extra shifts
Financial: Monthly Salary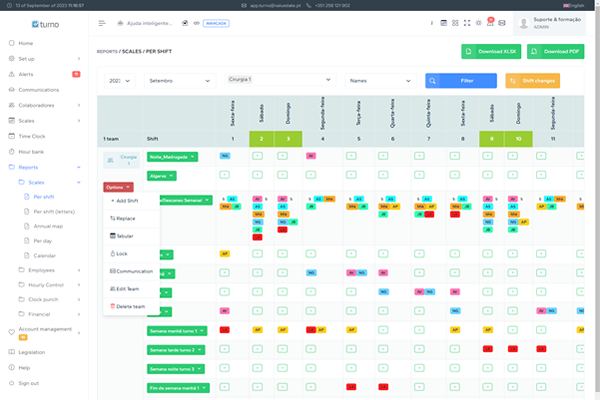 Don't waste time planning shifts manually
Web application with an appealing and functional interface, which can be used on any device, allowing the user to generate, view and export duty rosters, including vacation and absence management among many more features
Shift allows you to create a profile of each employee, manage vacations and approvals, contracts, evaluations... all in the same application



The monthly and annual scales are generated automatically, but manual edits are allowed and are recorded. Then view, share and download in various formats



Point staking automatically checks whether it is fraudulent. Through multiple reference points, such as team and location, monitor your entire organization



Get started for free and try it for yourself
---
The turno.pt is always available. Choose the plan that best fits your company, department or team
More than 50 employees? Talk to us for a value proposal that suits your needs
Prices do not include VAT
Help
Frequently Asked Questions
---
If you have additional questions, click here to send us a message!
Can I test and not be charged?
That's right! When you create your account, the free plan is automatically selected.
How do I cancel a paid plan?
You can cancel at any time directly in the app. Once you do so, you will have access to the app options until the end date of the period already charged.
Does the allocation of shifts and schedules comply with the Labour Code?
All the parameterization of shifts and employees allows it to adapt the generation of shifts to the Portuguese law.